Introducing the family that grew up at Pine Knoll…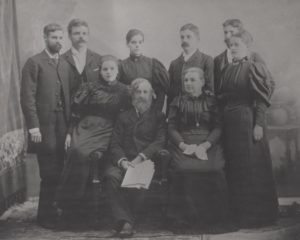 This portrait shows Mr. and Mrs. Andrew Nichols (seated, center) and the seven children who survived to adulthood.
Left to right: Andrew, Jr., John, Margaret (leaning by father), Mary (standing), Joshua, William, and Nellie.
Father:  Andrew Nichols, born September 17, 1837, in Danvers, Massachusetts
Mother: Elizabeth "Lizzie" Perkins Stanley, born August 6, 1836, in Salem. Married Andrew on September 5, 1861.
Children born at Pine Knoll:
Andrew Nichols, Junior, born June 10, 1862
Elizabeth Hunt Nichols, born May 2, 1864  [died at age 8]
John Holyoke Nichols, born April 9, 1866
Joshua Ward Nichols, born February 26, 1868
Mary Eliot Nichols, born November 30, 1869
William Stanley Nichols, born May 4, 1872
Nellie Chapman Nichols, born August 6, 1874
Margaret Appleton Nichols, born August 29, 1878
To view a genealogical chart of this family, with data about marriages and death dates, click here for Chart N 4.