Welcome!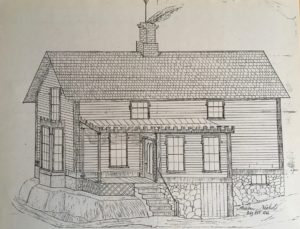 In 1861 Andrew Nichols married Elizabeth Perkins Stanley, affectionately know as Lizzie, in the parlor of Lizzie's home. Few of Andrew's family attended as they were opposed to the marriage.  After the ceremony Andrew took his bride to a cottage he had designed and built for her on Nichols family land in Danvers, Massachusetts.  He named the cottage Pine Knoll.
Their love for each other never wavered as they welcomed the birth of eight children, buried one, increased the size of the cottage in 1880 and invited Andrew's unmarried sister to make her home with them. For over 100 years following the building of Pine Knoll it was home to their children and grandchildren.  In the 1970's their great granddaughter, Janet Nichols Derouin, found the letters they had written to each other during their long courtship.  Reading these letters gave Janet the resolve to tell the story of Pine Knoll from 1861 to 1929 by creating a first-hand account from the wealth of family letters and diaries.
This website is designed to share the results of Janet's years of research and writing. We hope others may be inspired to share their memories of Pine Knoll and/or help complete unfinished parts of this project.